英語で話そう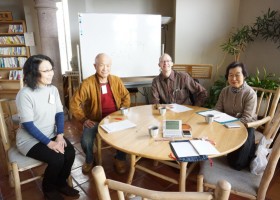 English is a bridge to the world. It's a way to encounter other lands, new people, interesting culture, fresh opportunities.
Sadly, for many people, English is not a bridge but a wall. Almost everyone has spent years learning English in school.
Almost everyone knows English words and grammar. But many people can't use the English they know, because they never learned how to communicate or never had the opportunity. This class is for speaking. The students are friendly and eager to share. Mistakes are encouraged! Using the words and grammar we already know, we stretch to new ways of speaking and learn new words and grammar along the way. So come and join us for some gentle mind stretching. We'll help you to free the English inside and open to the world beyond.
月2回木曜 13:30~15:00